What I Eat in a Day for Gut Health
Gut disorders and infections often leave us feeling bloated and miserable after meals. Which means we have no idea what to eat to feel even semi-decent.
Friend, I've been there, I get you.
Now that I'm (mostly) on the other side of my major gut woes, I can thankfully eat a pretty broad diet.
But that definitely wasn't always the case. I've done my time on very restrictive diets like the Specific Carbohydrate Diet (SCD), the low-FODMAP diet, and the Ketogenic diet.
Food restrictions are the not fun, but sometimes a very necessary reality behind healing your gut and recovering from things like SIBO and dysbiosis.
After going through years of restrictive diets and fear around the foods that supposedly "fed my bad bacteria" I'm now a huge proponent of not subscribing to a specific gut healing diet. But instead, listening to your body and only avoiding the foods that give you symptoms.
Finding a diet that works for your specific gut symptoms is so difficult, so this personalized approach takes the stress of finding the perfect SIBO diet off your plate (pun intended).
With all that being said, I get asked so often what I eat, so friends, this is finally the moment. I'm writing a blog all about what I eat in a day (I actually did two days, because I was feeling extra excited about this post)!
Please keep in mind, these meals are just what work for ME at my stage of healing. Yes, I eat a lot of carbs. Yes, I eat some grains. Yes, I eat a lot of FODMAP containing foods. Because they work for me now.
If I would have done this post two years ago, you would have seen a totally different story.
And if you're at a different stage in your healing journey, your body will probably like different foods than mine. Which is totally okay!
Okay, enough chatting, let's get to the food!
An Overview of How I Eat
I have Celiac disease, so my meals will always be 100% gluten free.
I've dabbled in avoiding grains completely for a few months, and noticed that I felt no different. So I occasionally will eat some gluten free grains. While grains are a great source of carbs, I try not to make these foods the focus of my meals. Instead, I like to focus on more nutrient dense carb sources like plantains, yucca, and sweet potatoes.
I try to eat vegetables with most every meal. Vegetables are my go-to source of prebiotic fibers to help feed my good gut bugs. Cruciferous veggies (like broccoli, cauliflower, and brussels sprouts) are also high in glucosinolate and sulfur which are important for detoxification and liver health. So I try to incorporate a lot of those guys in my diet as well.
I also focus on eating a quality fat source at most meals. Which really just means I eat a lot of avocados. No, but really, I also roast vegetables in either coconut or avocado oil, choose fattier cuts of meat, and eat full fat yogurt. Our bodies (especially our hormones) need fat to function, so I make a special effort to include it in my diet.
You might also notice that I eat a good amount of carbs. After years of following low-carb approaches in an attempt to reduce my gut symptoms, I've learned that my body desperately needs carbs to function well. I've developed adrenal and thyroid issues from my low-carb days, and I want to nourish these organs as much as I can now by giving them all the carbs they desire!
I tend to look at my food from a macronutrient perspective (carbs, fats, and protein). I know that when I eat a meal that is balanced in all three macros, I'm going to feel a lot better than if I have a meal that focuses heavily on one macro.
I'm going to show you some examples of meals that I typically eat, and then I'll break down the foods in the meals into the three different macro categories. That's how I think when I make my meals, so that's how I'm going to explain them to you!
What I Eat for Breakfast
I generally like to keep breakfast really simple and easy. So for me, that means using a lot of precooked meats and precooked veggies.
Here are two examples of what a typical breakfast looks like for me.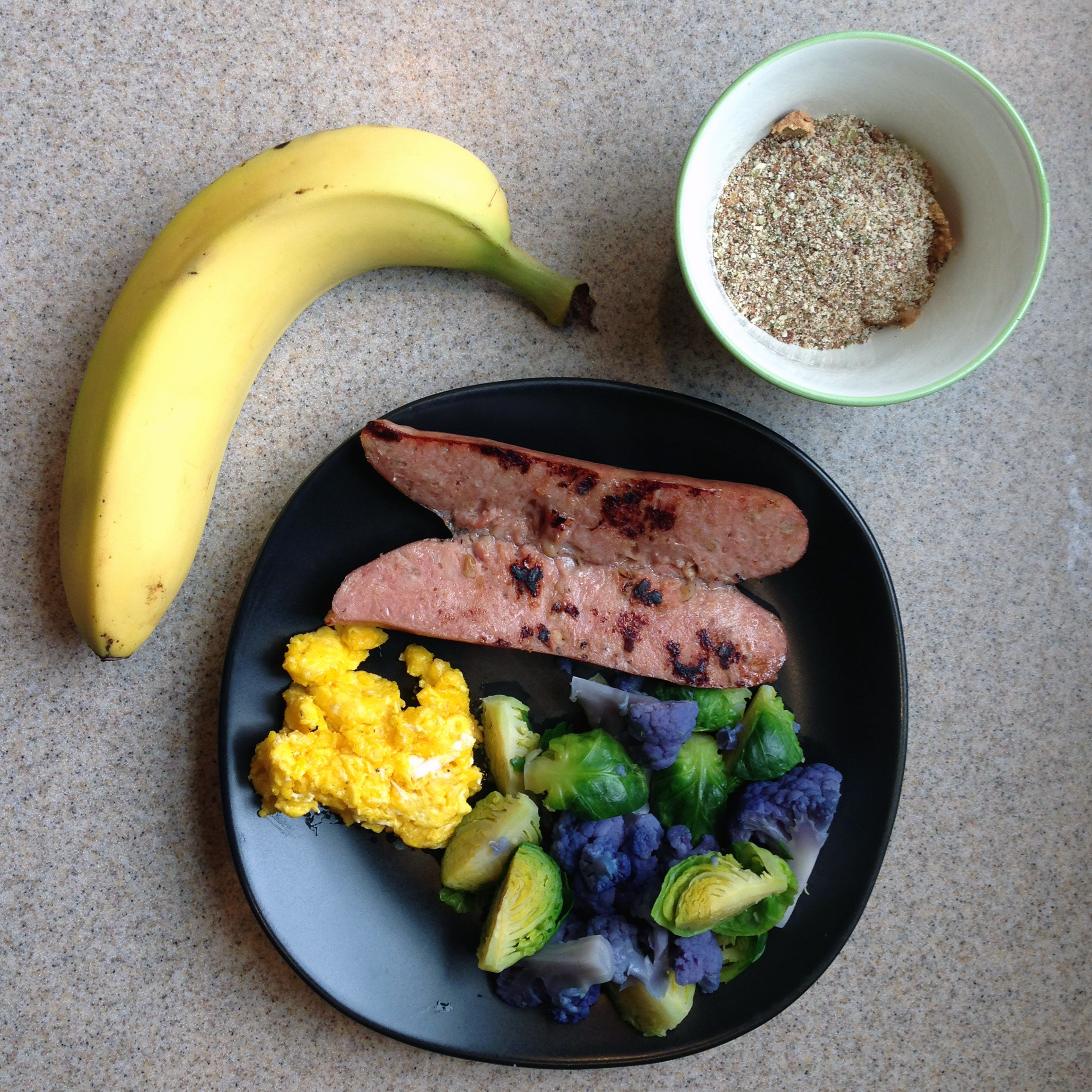 Breakfast 1
Carbs: banana
Fats: egg yolks, almond butter and ground seeds (part of seed cycling for my hormone health!)
Protein: chicken sausage, egg yolks, almond butter and seeds
Extras: steamed brussels sprouts and purple cauliflower
Breakfast 2
Carbs: banana
Fats: almond butter and ground seeds (part of seed cycling for my hormone health!)
Protein: chicken, almond butter and seeds
Extras: steamed brussels sprouts and purple cauliflower
What I Eat for Lunch
Lunch is usually my most difficult meal to plan. I don't buy any food specifically for lunch, so it's typically just a whatever I can find in the fridge, or foods that I've meal prepped earlier in the week kind of thing.
Here are two examples of what a typical lunch looks like for me.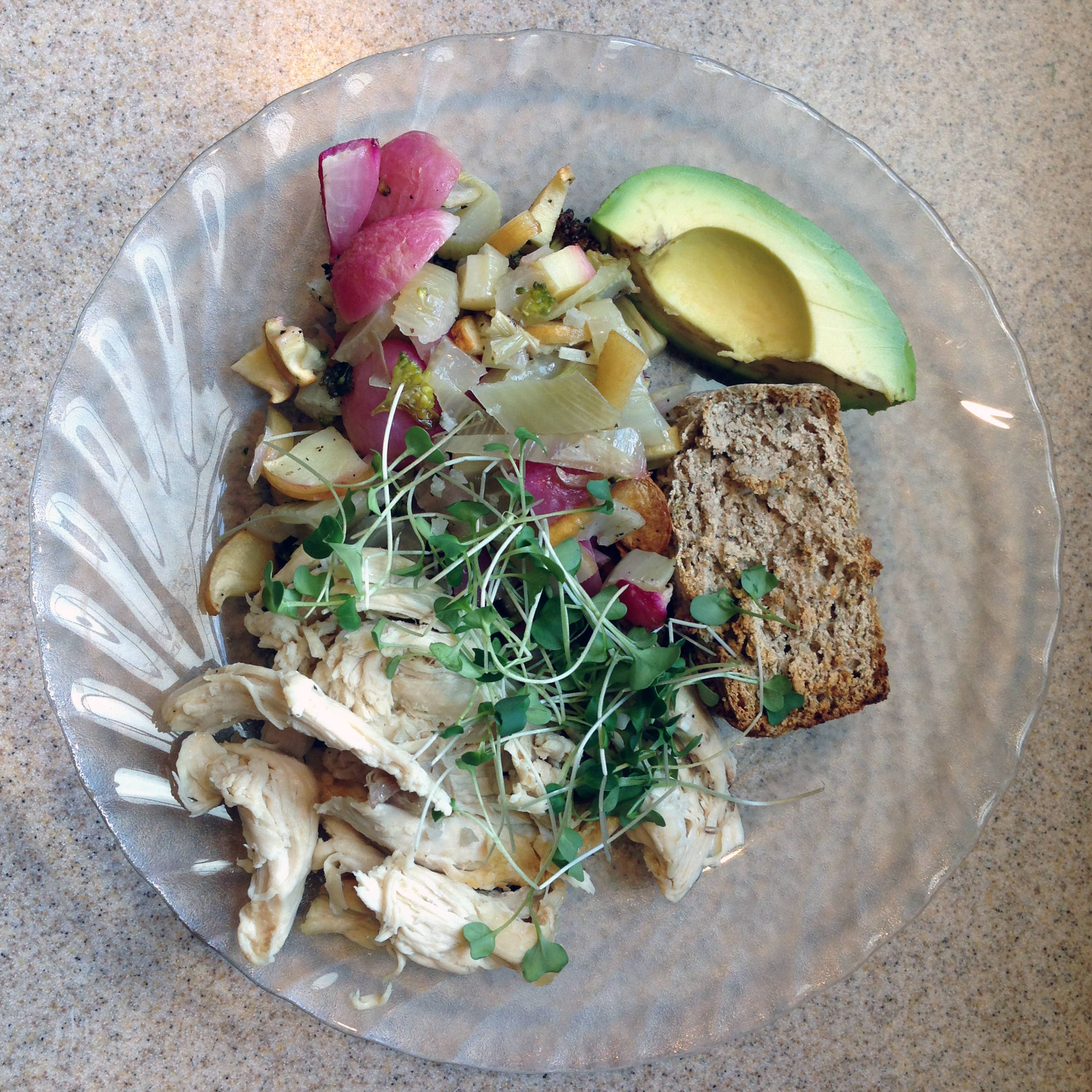 Lunch 1
Carbs: homemade GF bread
Fats: avocado, avocado oil for roasting veggies
Protein: chicken
Extras: a random assortment of roasted veggies, broccoli sprouts
Lunch 2
Carbs: purple sweet potato
Fats: avocado, avocado oil for roasting veggies
Protein: leftover ground turkey meatballs
Extras: roasted broccoli, there are a lot of hidden veggies in the meatballs
What I Eat for Dinner
Dinner is so fun for me. I usually plan five dinners out for the week and get all the ingredients I need in one trip to the grocery store. I enjoy being creative and coming up with my own recipes, or following ones from my Pinterest board. But like all my other meals, I'm always making sure my dinners fill up all of those macro slots!
Here are two examples of what a typical dinner looks like for me.
Dinner 1
Carbs: fried plantains
Fats: coconut oil for frying plantains, avocado oil for roasting broccoli
Protein: ground turkey meatballs (search Thai Curry Meatballs on my Pinterest!)
Extras: roasted broccoli, steamed dandelion greens
Dinner 2
Carbs: leftover white rice, chickpeas
Fats: avocado oil for cooking, Primal Kitchen Ranch (basically heaven in a jar)
Protein: chickpeas
Extras: purple cabbage, leeks, garlic, mushrooms, broccoli sprouts
What I Snack On
Who doesn't love snacks! I usually eat a maybe once or twice in between my meals, depending on how full I am. These are really the only pre-packaged foods I eat in a day, and I enjoy them to their fullest.
Here is what I'll typically snack on in a day.
I'm all about the grab and go snacks. So for that I love me some Terra Plantain chips, Lara Bars, and apples.
On most nights I'll add a little sweet snack before bed. Back when I was a kid I used to pound the ice cream before bed, so this is a definite improvement :)
I find the Seven Stars Farm yogurt at my Kroger, and I love it because it uses whole milk and probiotics - that's it. No other binders or fillers. And that Wild Friends Almond Cashew Super Butter is pricy, but so so worth it! I'll usually pair that yogurt nut butter mix with either a grain-free granola or some Hemp Hearts. So good, friends!
Well, I hope it was helpful to see a few examples of what I eat and get a glimpse into my mindset when I'm thinking about preparing my meals.
Let me know in the comments below what your favorite meal is, or if you're going to try something new based of this post!